Oki 610N Printer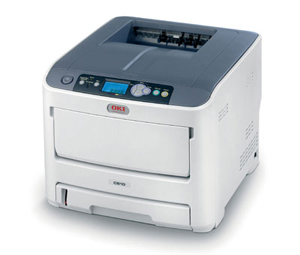 "First Page to Print" time of just 9 seconds and fast print speeds of up to 36 pages per minute!
Ability to print on paper stocks of up to 250gsm coupled with Oki's High Definition Color.
The 610N delivers maximum cost saving performance with high yield toners and a long life image drum.
Print on heavy weight paper and light card paper up to 250 gsm and any size from A6 to A4 through to a 1.2-meter banner.
The 610N consumes less energy than similar printers using as little as 1.2 watts once in 'sleep' mode.
Oki C610 Toner
Black - 1 Cartridge
$120.00 USD
Cyan - 1 Cartridge
$195.00 USD
Magenta - 1 Cartridge
$195.00 USD
Yellow - 1 Cartridge
$195.00 USD
Oki 9000N Printer
$1,750.00
Label Supplies
Laser Econo #3323 Wash Care
Quantity: 25M/CS
Size: 1 1/3 X 2 3/4
$16.80/M
Laser Super Polywash Care (Stone Washing)
Quantity: 25M/CS
Size: 1 1/3 X 2 3/4
$48.90/M
Satin Acetate
Quantity: 25M/CS
Size: 1 1/3 X 2 3/4
$48.90/M
Stickers
Quantity: 25M/CS
Hang Tags Quantity
Quantity: 25M/CS
Price Tickets
Quantity: 10M/CS
Size: 1 1/4 X 2 3/4
$0.04/M
Shipping Labels
Quantity: 25M/CS